Bodega Hybrid
Boa
Buttery smooth flex with a snug and supportive fit
Regular price
Sale price
€279,95
Unit price
per
Sale
Sold out
The Bodega is a plush, tweak happy boot with a medium flex pattern that doesn't skimp on performance. Built with PRO F.I.T. Liners for a buttery smooth flex that still lets riders keep their foot on the gas, the Bodega is designed around the philosophy that a great boot doesn't have to be overly firm. A favorite of park lappers and riders who want 'melt on your foot' out of the box comfort, the Bodega is a reliably smooth serial chiller of a boot.
Boa
Hybrid MP Heel Lock BOA
Mid power hold to complement hybrid lacing styles, advanced heel hold and ankle support.
M-Series Heel Lock Dial
Liner

Pro F.I.T. Liner
Fully heat moldable for maximum snug fit and dialed-in performance. Built with our SkateCuff 3D ankle support system, expandable toe box and Pro Footbeds for support and out-of-the-box comfort.
Outsole

Gripflex
Outsole
Medium to responsive flex pattern, strategic lugs and lightweight construction.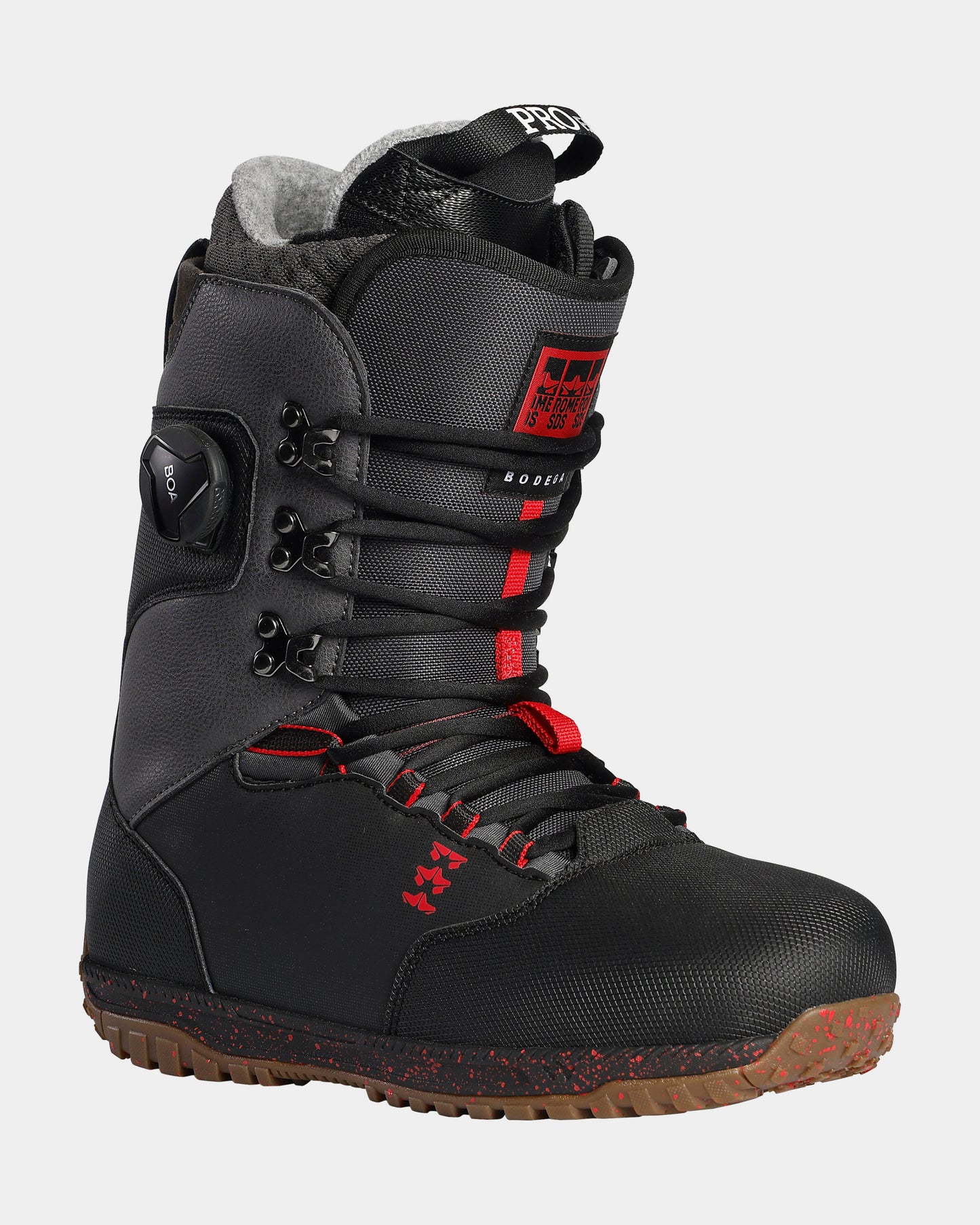 I was so paranoid about breaking-in a new pair of boots. There is almost always a few days ruined fighting foot cramps & numb toes; none of that here. Aside from a tighter toe box, they are an exact fit. I wear a popular brand of skateboard shoes and they are a close match. I just tightly shoved some towels into the toe box for a few days to help open it up; it worked perfect. The inner liner is incredibly comfortable and the cushion in the heel is perfect. The design of the sole makes the toe edge incredibly responsive and the bonus, my feet stay warm in regular gym socks. These are my go-to boots when I want a softer flex.
Pretty good but missing the greatness
Super light weight and good flex, amazing integration into Rome Bindings as usual, toe box is smaller than older models and hoping they will pack out as well as the boot will mold to my heel. Some heel raise but we will see how it plays out. For the most part pretty happy but feeling a little lack luster from previous years.
Great looking boot... however...
I selected a 7.5 and was sent a size 7.